Härjedalen
Fiskechampion - Fisching Champion - Fishing Champion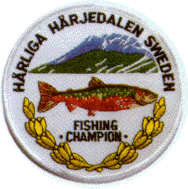 Årets Fishing Champion »

Text & Translation/
Übersetzung
Horst Kuehne Hede.
Hemsida ! »

Alla sportfiskare i Härliga Härjedalen har chansen att få ett erkännande för sina fångster. Tävlingen inkluderar 6 fiskarter, se nedan. Varje vecka under året publiceras fångsterna i Tidningen Härjedalen samt på kommunens hemsida. För varje fångad fisk med minimumvikt, se nedan, är fiskaren berättigad att köpa ett fyrfärgs fiskemärke, se ovan. Efter årets slut utser Härjedalens kommun ÅRETS FISKECHAMPION! Vinnaren får samtidigt ett för detta ändamål särskilt framtaget pris! Fiskarna måste ha fångats med sportfiske- handredskap. Fångsterna, som ska bevittnas, rapporteras på särskild kupong senast påföljande måndag kl. 12.00. Obs.: endast en fisk per kupong! Kupongerna erhålls hos fiskekortsförsäljare och turistbyråer inom landskapet.

Alle Sportangler im "Herrlichen Härjedalen" haben die Gelegenheit, ihren Fang vorzuzeigen und registrieren zu lassen. Der Wettkampf umfasst 6 Fischarten, siehe unten. Jede Woche während des Jahres werden die eingekommenen Fänge in der Lokalzeitung "Tidning Härjedalen" und auf der Homepage der Kommune veröffentlicht. Für jeden gemäβ Mindestgewicht gefangenen Fisch, siehe unten, darf der Angler je ein vierfarbiges Stoffabzeichen erwerben, siehe oben. Nach Abschluss des Jahres ernennt die Kommune den SPORTANGLER DES JAHRES! Der Gewinner erhält gleichzeitig einen für diesen Zweck besonders angefertigten Preis! Die Fische müssen mit Sportanglerausrüstung gefangen worden sein. Der (bestätigte!) Fang muss jeweils spätestens am darauffolgenden Montag um 12.00 Uhr mittels ausgefülltem Kupong angemeldet werden, welcher bei allen Angelkartenverkäufern und in den Touristbüros der Kommune erhältlich ist. Bitte beachten: jeweils 1 Fisch per Kupong!
Every sportfishing enthusiast in "Wonderful Härjedalen" has the opportunity to "show off" and officially register his catch. The contest will be held in 6 fish categories, see below. Every week during the year, the re-ported catches of fish qualifying for minimum weight, stated below, will be published in the local newspaper "Tidning Härjedalen" and on the homepage of the municipality. For each caught and qualifying fish, the fisherman has the right to purchase an embroidered champion badge. At the end of the year, representatives for the municipality will choose and proclaim THE SPORTFISHING CHAMPION OF THE YEAR! The winner will also receive an award which has been especially designed for this purpose. All entered fish must have been caught by hand-held sportfishing equipment. The (verified!) catches shall be reported at the latest at 12.00 AM the following Monday. Only special entry forms may be used, which are available at the places selling fishing licenses or at Tourist Offices throughout Härjedalen. Please note: only 1 fish per entry form!
Fiskeklasser / Fischklassen / Fish Categories:
Öring / Seeforelle / Brown Trout (Salmo trutta) Min. Vikt / Gewicht / Weight 2,0 Kg
Röding / Saibling / Arctic Char (Salvelinus alpinus) Min. Vikt / Gewicht / Weight 1,5 Kg
Harr / Äsche / Arctic Grayling (Thymallus thymallus) Min. Vikt / Gewicht / Weight 1,0 Kg
Sik / Maräne / Whitefisch (Coregonus lavaretus) Min. Vikt / Gewicht / Weight 1,0 Kg
Abborre / Barsch / Perch (Perca fluviatilis) Min. Vikt / Gewicht / Weight 1,0 Kg
Gädda / Hecht / Northern Pike (Esox lucius) Min. Vikt / Gewicht / Weight 3,0 Kg
Fiskefångstintyg / Fischfang-Bestätigung / Fishcatch Verification för utskrift>>
Fiskechampion program © Copyright Horst Kuehne